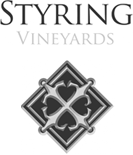 Styring wines have been recognized with Gold & Silver Medals from the Northwest Wine Summit, one of the finest professionally judged competitions in the country.
Andreas Larsson, the 'world's top sommelier" has selected Styring "Wit" Pinot Noir 2004 as a Top Pick in Tasted Magazine and his upcoming book.
Food & Wine has recommended Styring "Glace" White Riesling Dessert Wine 2003 in the Wine Guide 2009.
When things are made by an artisan, they are unique, made with care, and of the finest quality. They reflect the maker and his point of view. NOTE: ECOMMERCE is disabled. Please contact us using email or phone. We apologize for this inconvenience.
Steve Styring, Wine Maker

Styring Wine Selected Best Oregon Pinot Noir
Styring "Wit" Reserve Pinot Noir 2006 has been awarded the prestigious Oregon Pioneer Award at the Northwest Wine Summit designating it the best Oregon Pinot Noir in the competition. "We are honored beyond words at this award and deeply thank all of Oregon's wine country pioneers. We stand on the shoulders of genius and appreciate the support the wine community has shown us." says Kelley Styring, Styring Vineyards. The wine also won a Gold Medal at the summit along with Styring "Premier Estate" Pinot Noir 2006.

Summer Hours by Appointment

Visit Styring Vineyards this summer for a tasting and tour. Please call to make an appointment 503-866-6741

Styring "Passion of Pinot" Video Release!
Check out our new Video the "Passion of Pinot" - a sensual exploration of pinot noir.
http://www.youtube.com/watch?v=hCV5ExULNz4

Follow the Adventures of Molly the Wine Dog!
And, follow the Adventures of Molly the Wine Dog on Twitter @mollythewinedog and
www.mollythewinedog.blogspot.com


Click here to see Styring Vineyards in the news!
See Kelley on AM Northwest