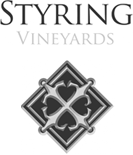 ARTISAN WINES
OF OREGON
Styring wines have been recognized with Gold & Silver Medals from the Northwest Wine Summit, one of the finest professionally judged competitions in the country.
Styring Vineyards...
Artisan wines with hand-crafted authenticity you can taste. That's because, Styring Vineyards produces small lots, carefully nurtured from vine to barrel to bottle, that reflect the authentic nature of the fruit, exacting standards, and the character of our Willamette Valley growing region.

At Styring Vineyards, we believe in crafting artisan wines that we enjoy drinking. That means carefully grown fruit, handled with care, and coaxed into wine that expresses the unique character of the grape, the terroir, and ourselves. This is typified by our small case production from limited varietals that love the Willamette Valley of Oregon as much as we do. We produce dry, flavorful whites; complex, structured reds; and fruity, balanced dessert wines -- enjoyable now, but when carefully cellared, robust enough for the best collections.

PINOT NOIR
Our Passion.
Our Ribbon Ridge AVA is uniquely suited to grow some of the finest Pinot Noir in the world. We then carefully crop the fruit, a time-honored tradition, to yield Pinot Noir of exceptional quality. After careful fermentation, gentle handling, and up to two years in French Oak barrels, this wine is a rich with characteristic structure - blackberry and black cherry fruit up front and soft, full tannins on the finish. Offered in both Reserve and Barrel Select varieties.
RIESLING
Our Whimsy.
Severe southern slopes in the Willamette Valley yield the perfect conditions to display Riesling in its dry form. Simple, yet elegant, with crisp apple notes and a clean, finish - our Riesling offers a true balance of fruit and acidity. Bottled in a slope shouldered bottle as a companion to our Pinot Noir.
PORT-STYLE AND DESSERT WINE EXPRESSIONS
Our Bliss.
We've always enjoyed dessert wines and sought to produce one from the finest Riesling fruit. Our desserts are lower in sugar than a classic dessert wine, allowing tangerine and apricot notes to push through to a clean, soft finish. Our Port-Style wines reflect the best of our reserve quality, fortified with 100% wine spirits, for a full, rich port-style experience.